"Biggest mistake we make is, seeing short-sighted data, & easy-to-convince management approach, while designing a campaign" – Komal Gupta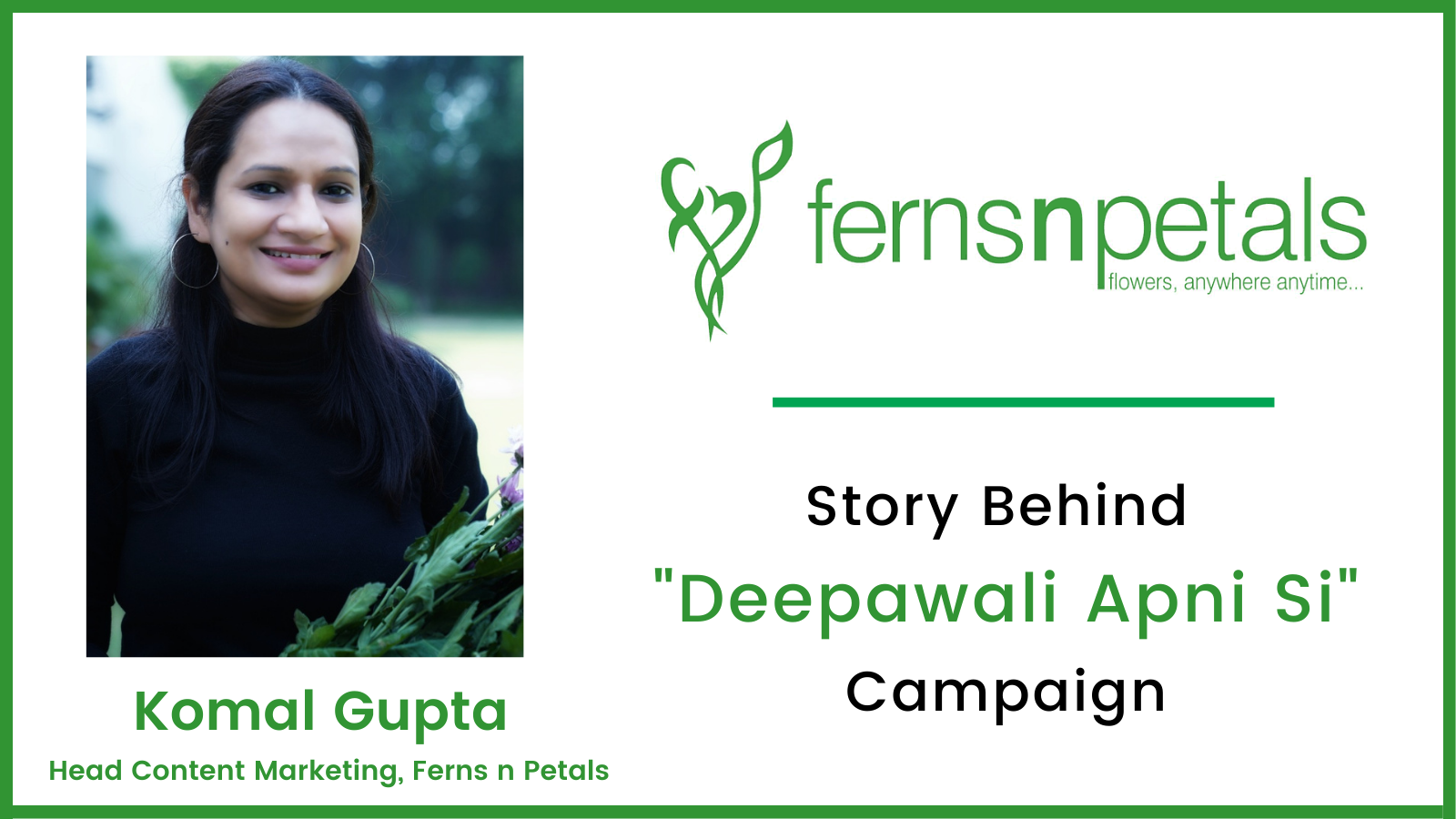 Deepawali Apni Si was a simple pep-talk on bringing people back to basics which is spending quality time with loved ones and celebrating a simplistic Diwali together.

Why a simplistic, because we wanted to convey the message of maintaining social-distancing, instead of doing card parties, cocktails, crackers, etc.

Komal Gupta, Head Content Marketing, Ferns n Petals
Ferns n Petals came up with a Diwali campaign where in the narrative was to project it as an extended family members from whom you will receive the gifts this Diwali.
The thought is interesting and Voice over of Naseeruddin Shah adds the emotional appeal.
We talked to Komal, and learned more about the story and their thought process behind this campaign.
Read on to get the complete picture behind the campaign.

Are you paying high? Check – Global Video Production Price guide


1. What is Ferns N Petals' internal process of coming up with an ad campaign?
Ferns N Petals has a unique way of building a campaign.
Instead of taking a typical Sale route, we slide ourselves into our wish-listers, shoppers and window-shoppers' shoes and understand their perception on an occasion or reason to send a gift to someone.
Once we crack that, we round up our various teams to understand their offering for our customers and devise a strategic communication for the ad campaign.
Hence, each of our campaigns hold the value system of consumer, employee and organization vision.

Join 52000+ strong Global Video Marketers Community


2. Please tell us the story behind the campaign – "Deepawali Apni Si"? What was the overall thought process?
"Deepawali Apni Si" was the brainchild of FNP's Creative team often known as 'The Madhouse' of FNP.
The ideas brought in by a gang of writers, designers, social planners, storytellers, etc., scoreboards were created, midnight huddles were endless and ideas were carved into one great idea – Deepawali Apni Si.
When we started brainstorming, each idea sounded just as great as the last one, but when these ideas started going through the filters of org, consumer and product vision, we started seeing the daylight.
When it comes to new-age campaign marketing, it is important to understand the state of mind our consumer is in.
Deepawali Apni Si was a simple pep-talk on bringing people back to basics which is spending quality time with loved ones and celebrating a simplistic Diwali together.
Why a simplistic, because we wanted to convey the message of maintaining social-distancing, instead of doing card parties, cocktails, crackers, etc.

Get updated with Latest Video Marketing News


3. Why did you decide to do narration from Naseeruddin Shah? Any specific/ particular reason? Who wrote the lyrics?
Lyrics were written by the inhouse team.
We chose to work with Naseeruddin Shah because of his veteran voice that has the dusks and dawns of life naturally.
A narration coming from an experienced voice as Naseeruddin Shah was simply a reiteration of our campaign theme – Deepawali Apni Si urging people to find joy in little things in life and spend a responsible Diwali this year.

Are you a video marketing expert? Take these quizzes


4. What mistakes our community members should avoid when it comes to planning ad campaigns?
Avoid the thought, "It's too risky to try this".
You need to experiment, you need to keep in mind your upper and lower generations, you need to identify the influencers who influence these generations, and you need to see the road beyond the bridge.
Biggest mistake we make is, seeing short-sighted data, and easy-to-convince the management approach, while designing a campaign.
The path may sound tough, the destination is going to be a revelation.

Know the New Things happening in Video Marketing


5. Please name the team behind this campaign.
Director & Screenwriter – Komal Gupta
DOP – Arjun Kukreti
Creative Producer – Soumendra Bose
Assistant Directors – Akshay Chandra, Tushar Sahi
Narrator – Naseeruddin Shah

Check out these interesting Video Ad Campaign Stories


About Komal (in her own words)
Daughter to a Scientist cum Academic Author. Spent most of my life bouncing around everything else, but school academics.
Childhood was mostly camping with father, shooting pebbles in ponds, treehouse stays, NCC drills, slow skating, mountaineering (else hillocks).
Still a Gen-Z in mind, and a true millennial at heart. Love reading books, find joy in little kitchen farming of spinach and tomatoes, seek solace in good music – from U2 to Zeppelin, Anand Shankar to Kishore Da and most importantly cook for whoever I can get hold of.
Started career as a Journalist, Writer & Filmmaker by education, I play a mixed role of Content Marketer, Filmmaker, Storyteller at Ferns N Petals.
In CV language, Studied brand & business vision alongside Founders & Top Management to establish positioning of the brand.
From discovering relevant content nuggets to sketching brand's tonality, introduced intriguing storylines in the form of viable 360-degree marketing campaigns.
Hired & mentored in-house teams of passionate individuals to play the role of creative agency/idea factory that served every business channel with freshly brewed & neoteric content.
Replaced external agencies (content, studio, design, video, social) hence cutting down the business spends to half & optimizing productivity almost at every brand I worked – KOOVS, ShopClues, Voylla, and now Ferns N Petals.
Belief System
I've always believed that we all are surrounded by millions of stories.
My childhood was all about stories, be it forest adventures of my father, the mythic characters my mother created to set the rulebook of life, Stories from Ramayana, Mahabharata, Comic Books, Poetry, Treehouse tales – I was brought up amidst these stories narrated by my parents.
Back then, they were just stories but today when I look back, those stories are still my roots, my bible and my ultimate mantra to live with unchained thoughts. I often follow a very simple quote by Jean-Jacques Rousseau, "Freedom is the power to choose our own chains."

Learn from Video Marketing experts


About VidSaga
Vidsaga is a global marketplace for Organisations to create Videos. Consider it as "Upwork/ Fiverr for videos" with Creative script writing and professional project management.
Join thousands of Global Video Marketers