"Media clutter coupled with decline in attention spans are leaving brands with a tough path to tread" – Rohit Malkani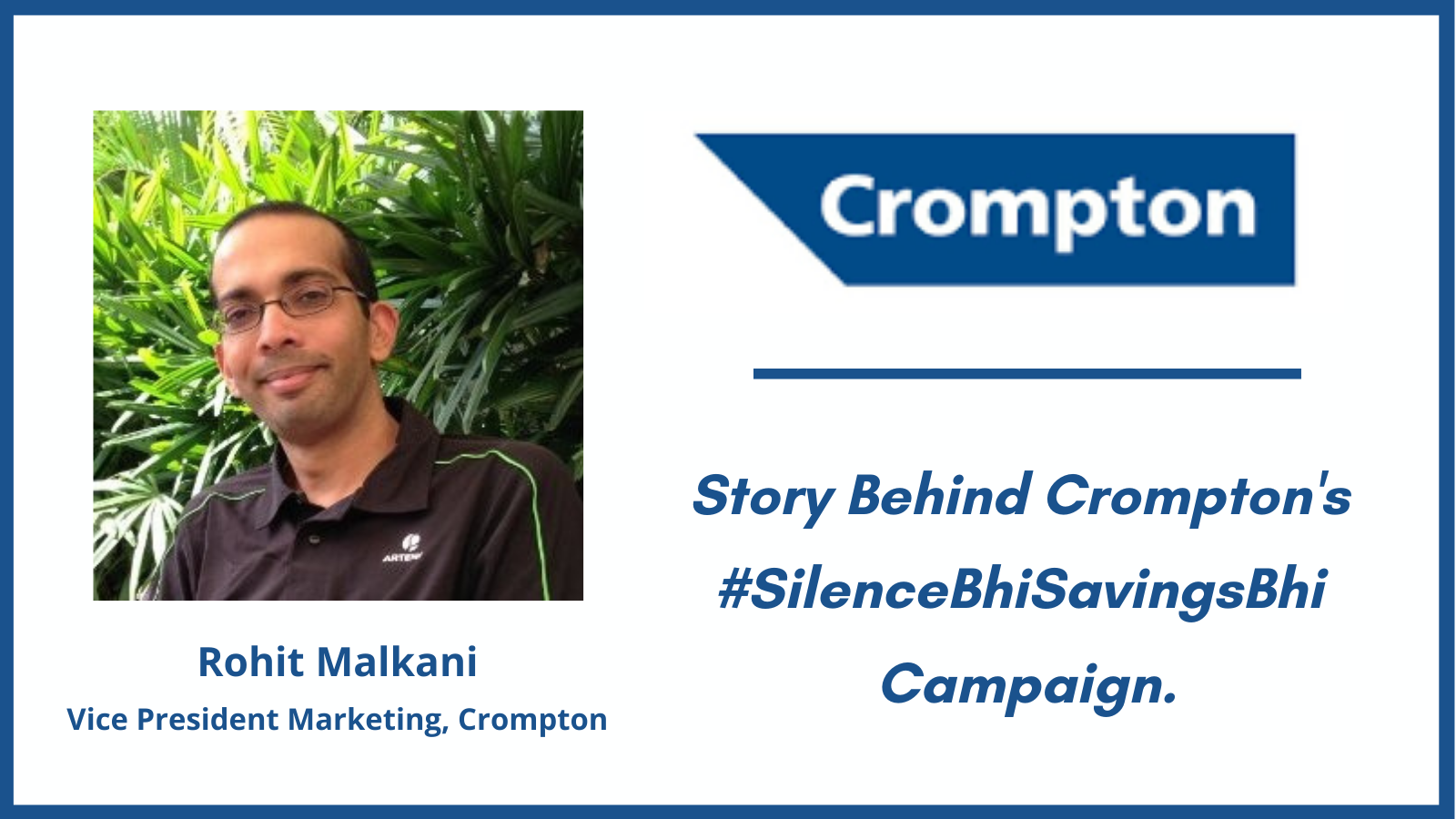 "At Crompton we have been working to keep strengthening our understanding of the consumer and uncover the little things that make a difference."

– Rohit Malkani, Vice President Marketing, Crompton
Crompton has a history of coming up with some very interesting campaigns. This time when they have come up with their new campaign – "Silence bhi Savings for" for their no noise fans range.
So, we decided to talk to Rohit and learnt what goes behind their campaign strategy.
Read on to know the story.
Are you paying high? Check – Global Video Production Price guide
1. What is Crompton's internal process of coming up with an ad campaign?
Our process for coming up with an ad campaign is pretty much standard.
However, a couple of things that we focus on to ensure we get things right are :
Identify the winning innovations at our end after testing them well.
Write a sharp and clear brief
We make it a point to get inputs from everyone on the team during the creative presentations and incorporate the relevant suggestions.
So far, we have worked with Bhavesh (Cutawayy Films) on the films and he too has a solid understanding of the Crompton personality and his contributions are critical to the output.
Invitation to join Global Marketers Community Discussion Space
2. Please tell us the story behind this campaign – "#SilenceBhiSavingsBhi"? What was the overall thought process?
At the heart of it is the product insight that we had, which all of us unknowingly compensate for various things in our lives that make some sound.
For example, you tend to speak louder on the phone when the TV is on, or increase the volume of the TV when the fan is on full speed etc.
As we worked on this, we realised that consumers felt they would immensely benefit if they had a silent fan. So we didn't stop there and asked ourselves what other benefit can be bundled into this?
As it turns out with the current pandemic savings and financial security also came up as concerns.
Hence, the product proposition for SilentPro is one that not only promises you silence but offers energy savings as you use the product as well.
In our campaigns, we have portrayed a young couple representative of our TG – theirs is a relationship of equals and looked to incorporate a friendly, realistic banter that would exist amongst the two.
In fact, we always refer to them as Akash and Anjali in our discussions with BBDO.
Akash is a little loud and Anjali draws a comparison between the old noisy fan and Akash, pulling his leg saying "purana fan tumse bhi jyaada awaaz karta hai".
This banter continues when they have a bet which Anjali wins and get one of the most prized items, the TV remote!
Our consumer insights have shown that increasingly women are taking on a bigger role in managing the household even for categories like electrical products which previously would be the domain of the male.
The ad is true to our brand persona as well as the tonality w.r.t. showcasing a progressive young couple who enjoy a playful relationship for whom home and its décor is an important part of their lives.
Know the New Things happening in Video Marketing
3. How do you measure results of your ad campaigns?
As a brand we have focussed on increasing awareness of Crompton and tracking those scores will be the primary metric. Apart from this we will also look at the impact on sales and our market shares.
Apart from this we will also understand the performance of the creative across the TG and markets to understand how well it is working.
Here are the Top 40 Video Production Companies in India
4. What advice would you like to give to budding marketers when it comes to executing ad campaigns?
The sharper the message to be delivered the better the outcomes. Media clutter coupled with decline in attention spans are leaving brands with a tough path to tread.
Check out – Top 25 Global Video Marketing Disruptors
5. Please name the team behind this campaign.
The team that together made this campaign a reality is Jigar Shah, Malhar Vadke, Priyanka Pardeshi & Sanjay Prabhu worked on this campaign closely with BBDO & Cutawayy Films.
Youtube SEO: 10 Hacks you need to know in 2022
About Rohit and his journey so far in Crompton (in his own words)
Crompton has been an unforgettable part of my life right from childhood. Not just in the form of ceiling fans that kept us cool in the Bombay weather but because my father would not allow any other brand of ceiling fans!
He had a PhD in electrical motors from Bristol, UK, so in such areas close to his heart we took his word for it and knew that there was something special about Crompton Greaves Fans.
Sure enough while growing up, the Crompton fans in our home worked tirelessly without any breakdowns thus slowly, steadily making its way into the minds of everyone in the family.
This home truth that well designed + engineered products will be appreciated by consumers has been borne out in my experience over the years and is something that I truly believe in.
At Crompton we have been working to keep strengthening our understanding of the consumer and uncover the little things that make a difference.
Since our existence as an independent company, we have worked hard on our portfolio of products.
We have launched some really innovative products that fulfil multiple unmet needs of our consumers.
Not all of them have succeeded but have in the process strengthened our understanding of the consumer.
Two of the pillars identified by us for winning in the future are steeped in what we do as a marketing unit.
One of them is Brand excellence – which is all about how we build brand Crompton across the key categories we play in.
The other is Product excellence which focuses on innovation and new products that are clearly differentiated and required by the consumer of today.
Get updated with Latest Video Marketing News

About Vidsaga
Vidsaga is a global marketplace for Organisations to create Videos. Consider it as "Upwork/ Fiverr for videos" with Creative script writing and professional project management.
Join thousands of Global Video Marketers