In the world of video production, technique is always more important than equipment – Paolo Kernahan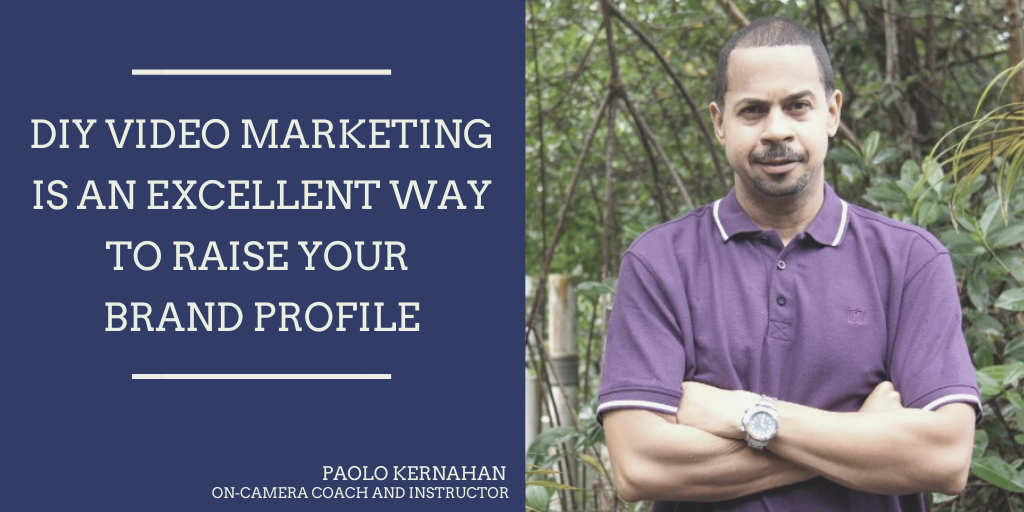 As a child, Paolo Kernahan had a passion for reading and storytelling. After completing his studies he began a career in TV journalism. After this, he created his own television programming.
And now, with more than 25 years in broadcast journalism, he is now an On-Camera Coach and Instructor.
Read on to more about him and his DIY Video Marketing Strategy.


1. Tell us about your life journey, Paolo?
I live on the island of Trinidad in the Caribbean where I grew up. As a child I had a passion for reading and storytelling; two traits I inherited from my father.
I started writing as a teenager and continued my interest in literature at University in Canada. When I returned to Trinidad after completing my studies I began a career in TV journalism.
I eventually branched out to create my own television programming which then evolved to web content creation for private clients. That's my story in a nutshell.

Check – Top 25 Video Marketing Disruptors in Australia


2. What prompted you to become a Video Marketing Consultant?
When I was creating my own television programmes I had to market the shows myself. The cost of conventional advertising (newspaper adverts) was horrifying.
With a limited budget, I turned to using my own cameras and social media to spread the word about my programmes.
After having done that for several years I thought, why not offer that service to clients who are trying to break into digital marketing?

Also Check – 25 Video Marketing Disruptors in India you must know


3. How one can speak confidently in front of a camera?
There are several techniques to speaking with confidence on camera. If I had to boil it down to 3 simple steps it would be these:
1) Focus on the camera not as a menace, but as a tool to raise the profile of your business and boost revenues. Change your mindset about appearing on camera.
2) Learn as much as you can about your industry/profession or particular field. Being comfortable with your subject matter and having a good grasp of the material is the best antidote for on-camera jitters.
Ideally, if you fill your mind with knowledge about what you want to speak about you will leave no space for nervousness.
3) Practice as often as you can in front of the camera. Review your recordings and look for areas where you can improve.
Don't forget to be on the lookout for elements of your presentation that you like. Personal positive reinforcement is a huge motivating factor.

Check This – Top 25 Video Marketing Disruptors in the Middle East


4. How Marketers and Entrepreneurs can adopt a DIY video marketing strategy?
DIY video marketing is an excellent, cost-effective way to raise your brand profile and bring more customers into the fold.
Entrepreneurs tend to shy away from it, either because they are afraid of going on camera or have mistaken ideas about the costs associated with creating video content.
Anyone can start to produce video content themselves inexpensively. The first port of call that I would recommend would be training.
If you learn on-camera confidence and the methods for sustainable video content creation you can save yourself a tremendous amount of time starting up your own video marketing strategies.
There are countless ebooks and online courses that are structured in a way to give busy entrepreneurs a simple introduction to DIY video marketing and techniques that they can apply to their businesses almost immediately.
As far as equipment goes, start small. Begin with your smartphone and work your way up from there.
The beautiful thing about doing training for DIY video marketing is that the more you learn about the proper techniques for effective video content creation, the cheaper it is to do it.
In the world of video production, technique is always more important than equipment.

Read our other articles here – Video Marketers Community


5. What advice you would like to give to Video Marketers who want to use video content to create opportunities?
I would recommend a few things. Don't wait until conditions are perfect to get started. The timing will never be right, the money will never be there, and the resources will always seem insufficient.
Do the training and start small. As more revenue rolls in and more resources become available you can step up your game.
Don't delay your business goals by waiting for some unattainable measure of perfection to materialise.
Also, there are more videos online than ever before as entrepreneurs are tapping into the power of the medium to grow their prospects.
What that means is that it's getting more difficult to get attention online as platforms become more crowded.
It is more important than ever to invest the time in learning how to create video content that will stand out above the noise.
Learning how to speak confidently and with clarity in your videos will set you apart from the millions of just-average videos circulating the internet. 
If you'd like to learn more about using video to help your business stand out in 2024, check out: No Fuss Video
Paolo has also created a camera confidence course designed to help entrepreneurs speak with poise and confidence on camera and command the attention of customers. Please visit his course page here: Camera Confidence
Invitation to join Global Marketers Community Discussion Space


If you would like to recommend a Video expert to get featured here, simply send his/her LinkedIn profile link to us at team(at)vidsaga(dot)com


Join thousands of Global Video Marketers