COVID-19: Video Marketers' Sentiments Survey by Vidsaga – Final Report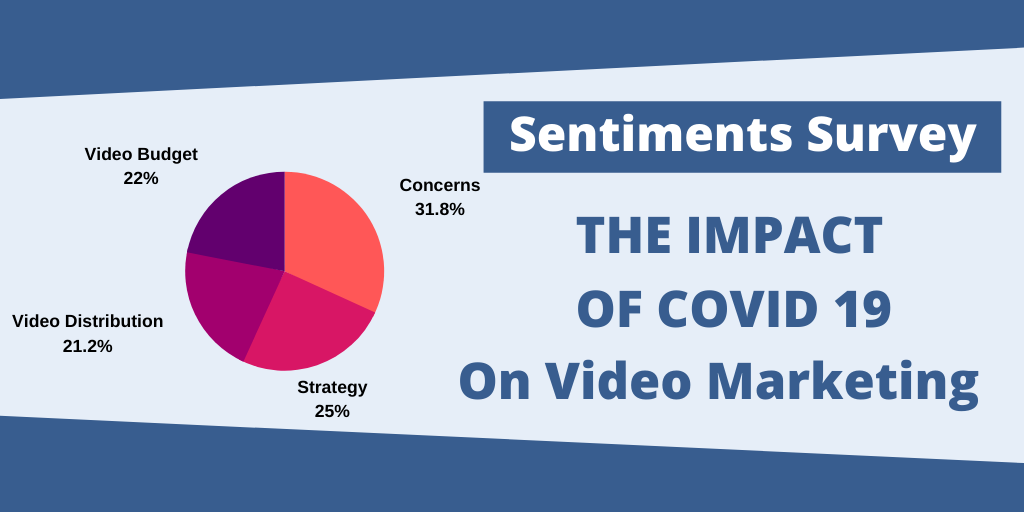 Now that It's confirmed that Covid 19 would have a disruptive effect on lives, economies and businesses, the question is – what should be the marketing growth outlook and priorities?
As a community initiative, we at Vidsaga.com conducted a "Sentiments Survey" to understand COVID-19's effect, opportunities, challenges for Video Marketing.
Many Founders, Video Marketing Experts, Youtube experts and marketing experts participated in this sentiments survey.


TL,DR:
It would take at least 6 months for the global economy to recover.


Video Marketers should not worry much but should plan an alternative strategy.


Marketers should not reallocate budget to other content types but should slightly change their video distribution strategy.


Social media and Client engagement videos are still relevant in the current situation.
---




Full Report – Covid19 Video Marketers' Sentiments Survey

Q 1 – When do you think the global economy will recover from the COVID-19 crisis?
Q.2 – What should be the sentiments for video marketers?


Q.3 – What should be video marketers' biggest concerns?

"The biggest concern would be to ensure being relevant and empathetic. Since consumption has spiked, it is natural your ads will show up, at that moment you would want to build a lasting impression". – Siddharth Sharma, Director & Inbound Marketer – Karix

"Everything is going to be changed now because of COVID-19 crisis, companies will have to put more effort and change strategies in order to survive". – Ankit Kothari, Video Marketing Specialist


"Video Marketers should work on a strategy that would connect and make an impact on the audience during COVID-19 pandemic. People are free and finding ways to allocate their time on value addition. So grabbing this opportunity would actually make a positive and long time sustainable retention of visitors". – Sugandha Bansal, Founder – The Blue Oceans Group

"Producing quality videos with a remote team while keeping stakeholders in the loop. Always remember, less communication is miscommunication. Your team should always be aware of what exactly you're working on at any given moment. Having a targeted priority list in alignment with other campaigns is super important. So for me, the biggest concern of a video marketer should be to communicate well with your team while setting your priorities straight". – Sachin Vats, Video Marketing Consultant – Wingify

"Diminishing interest in brand messaging because of current survival preoccupations". – Paolo Kernahan, On-Camera Coach and Expert

"The "game of business" has new rules. These rules won't the demise of the economy entirely, but they require a rewrite of how certain industries conduct business, which "ripple effects" how everyone lives their lives. This should be seen as an OPPORTUNITY in the eyes of video marketers. In many industries, there is a demand to create what is needed to transform how the business has been done before social distancing. Many of the problems/changes being experienced can be solved or alleviated with the use of video". – William Schultz, Youtube Video Marketing Expert

For now, you don't need to change anything. Because no one knows how things will play out. It pays though to be ready to make a change if you need to. Vigilance is key but it's important to keep a cool head and not make rash decisions you will regret later. – Nikola Roza, Youtube SEO Expert
Check out the concern of other experts.


Q.4 – Should video marketers plan an alternative strategy?


Q.5 – What changes video marketers should make in video marketing strategy?

"I recommend creating educational videos during this time. Be sure to show compassion and understanding too. Businesses should continue and increase video marketing during these times. Now is not the time for a hard-sell, but more brand awareness and compassion. No better way to do that than with video!" – Janet E Johnson, Social Media Marketing Specialist

"It really depends on what your brand wants to achieve with your video marketing strategy. Every video you create must have a purpose. Don't keep churning because you'll miss out on the trend. Try and make videos that educate, empower, and help customers discover value in what you may have to offer". – Rapti Gupta, Content marketing head, Instamojo

"Push out relevant content to focus on the solution and the way around the recent pandemic in innovative & creative ways". – Charu Pandey, Head of Marketing – Ziwo

"Video marketing is a long term game. So avoid thinking just short term. Think long term. Listen to your audience, see how your solution can help improve their lives, and then adjust your content priorities accordingly". – Amir Shahzeidi, Youtube SEO Expert

"Do not focus on the crisis, but create meaningful and insightful and educational content". – Dr. Islam Gouda, Strategic Marketing Manager

"Use more "subscription" business model (cheaper but effective) for their clients. To use Patreon as an effective tool to help (on a monthly basis) businesses that produce video content frequently". – Aleks Netsivka, Founder – Utubeo

Exploring new formats that do not require large shoots. – Mike Melli, Cofounder & CRO, Miss Malini
Check out what other experts has to say on video marketing startegy


Q.6 – Should companies reallocate video marketing budget resources to other content types?


Q.7 – What types of videos will still be relevant during this time?


Q.8 – Should companies change their Video distribution strategy as well?


Q.9 – Any specific observation regarding video marketing you would like to share?

"Don't stop creating videos just because you don't have good lighting or background. Softwares like Zoom provide wonderful backdrops, make use of it, and create videos. This is not the time for us to give excuses, it's time to shatter the fear of the camera and march forward". – Sanjana Murali, Product Manager, Hippo Video

"First time in history content is up, ads are down. This is the time for creating videos that are purely about serving the interest of users and customers first, before brand". – Aashish Chopra, VP Content Marketing – Ixigo

"Animated and Graphics based videos will dominate the market". – Ranish Hangloo, Senior Marketing Manager – Network18

Go to the root of benefit of the product, and present it with emotion. No oversell, no hype, don't go overboard. If your product allows (especially in SaaS biz) offer a bit more generous trial offers, ask your CEO/Popular Senior person to do a bit of home-based commercial, let people see kids and dogs in the background, utilize the chance to make human connections. – Deepak Sharma, Video Product Leader

"Conference calls based calls using video technology need to get more secure". – Sachin Uppal, Video Marketing Expert
Find out the observations of other Video Marketers

"Don't get too caught up in teaching content types the most effective videos for your business and your clients are videos that build connections and break down reasons holding them back from purchasing your offers. The whole world is shifting to working virtually which will have lasting effects, many will keep this new model even after covid19. We are all being forced to innovate so don't wait for the storm to go away". –Matt Ballek, Digital Video Marketer – Vidiseo
Invitation to join Global Video Marketers Community
Learn from Video Marketing experts


About Vidsaga
Vidsaga is a global marketplace for Organisations to create Videos. Consider it as "Upwork/ Fiverr for videos" with Creative script writing and professional project management.
Join 52,000+ Global Video Marketers' Community