Top 24 'Genuine and Free' Dofollow Websites for Off Page SEO [2019 Edition]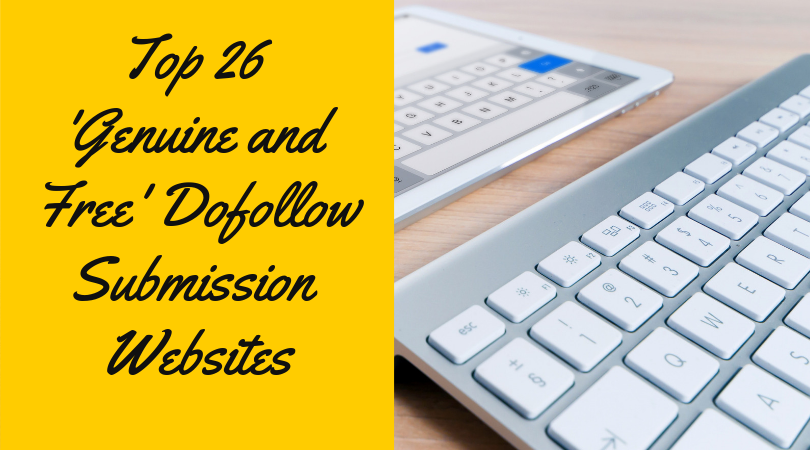 Disclaimer: In order to help other digital marketers and businesses, we at vidsaga.com (a global marketplace to hire right video creators to make awesome videos) have compiled this list.
The idea behind compiling this list is to help other digital marketers or businesses in executing their off page SEO activities easily.


Do you want higher ranking in search engines like Google? In that scenario, you will have to do SEO of your website. The important factor to get high rank besides on page SEO is dofollow backlinks.
One of the prime factors that Google considers while assessing your website is dofollow links from quality websites.
So here we have made a list of top 26 submission sites where you will get quality dofollow backlinks. It is a comprehensive list which is tested from our side.
How to find if a link is dofollow?
1 Chrome
One of the easiest method is as follows:
1 Right click on the link
2 Then, select 'Inspect Element' (A Window appears with a link highlighted)
3 After that, check if the rel='nofollow' attribute is in the code
4 If it is in the code, the link is nofollow otherwise dofollow.

2 Firefox
Simply, add Nofollow extension in your browser.
After that, whenever you have to check if a link is dofollow or not. Then, go to that website and check if there is a red mark accross that linkIf there is red mark, then it is 'nofollow' otherwise it is 'dofollow'.
For instance:
Here the link vidsaga.com is 'nofollow' because there is red mark around it.
Top 5 Dofollow Article Submission Sites
Top 9 Dofollow Infographic Submission Sites [Free]
Top 9 High PR Dofollow Social Bookmarking Websites [100% Free]
High PR Dofollow Video Submission Site

You can easily submit there and get quality dofollow backlinks because theabove mentioned websites do not charge anything for submission.


If you also know any free quality dofollow submission websites, please let us know at team@vidsaga.com.
If you are looking to create a video easily, quickly and at the best price
About Vidsaga:
Vidsaga.com is a global marketplace to hire 'best fit' video creator. We help Organizations (Startups, NGOs, SMBs) in hiring the right video creator easily, quickly and who charge right amount

If you find this article informative, then pass on to others as well.
Get similar article in your Inbox