17 Questions You Can Ask Before Hiring Corporate Film Makers In Mumbai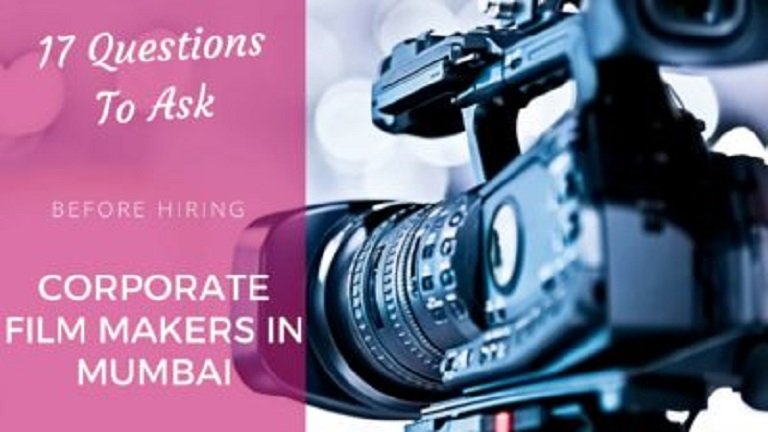 (Note: Are you looking for corporate film makers in Mumbai? Click here and submit your details and we'll FIND you the best corporate film makers in Mumbai right away.)
If you are a business owner who is looking to hire corporate film makers in Mumbai. then you have to ensure that you hire the best person to take care of your brand's image.
We usually help with brands to find best corporate film makers in Mumbai, and that's what we do for a living. But finding the right person is never a smooth ride.
Before hiring a corporate film maker, you have to run all the checks and processes to ensure that the team you have shortlisted is the right team to work with you, and they can understand your brand almost as good as you.
And that's why I have covered these 17 questions which will help you to find and hire the best level of talent amongst all corporate film makers in Mumbai.
17 Questions You Can Ask Before Hiring A Corporate Film Makers In Mumbai
1) How much experience do you have in the video production industry?

If I were to hire a corporate film maker, the first thing I would ask them is how much experience they have in this video production industry. A simple thumb of rule suggests that if you are a person and has made work experience, technically you will have a slight edge over someone who doesn't have experience in working on the same skill.
So asking a prospect about their relevant work experience, I think, is the first way to move forward on the path of hiring a good corporate film makers in Mumbai.
2) How many projects have you done till now?
Along with experience, the next best thing you can ask is about the number of projects they have done so far. Technically if they have done more work over the years and have had more hands-on experience in a lot of projects, then you can assume that they are skilled at their craft (of course you'll hold your judgement
until you see their work).
But this is also a decent enough metric to figure out whether they are really good at their work or not.
So, hiring someone who has worked on a lot of movies vs hiring someone who has done less work is in anyway beneficial for your company. To be honest, over the years, we work with a lot of corporate film makers in Mumbai.
We have seen the difference by ourselves on how people who have done more work are better than the usual ones.

3) How big is your team and how many people will work on our project?

If you ask me, I'd say that team size is a big factor, honestly. If these guys have a bigger and a professionally managed team, that signals 2 things.
a) They have a lot of engaging work (which means they are highly wanted in the market).
b) They have a lot of focus on speed (and they will deploy more people to your task to resolve your issues).
To me, if I had to choose, this is a win-win situation where I get more people to work on my projects.
4) What is your work ethic and video making process like? Do you think you understand our business and its needs properly?
Usually you tend to do better with companies which have work ethic which is similar to yours. Because they'd understand the level of culture, ethics and all other important things that you have, as a business.
If they don't understand it, they won't be able to depict the kind of craft that your company needs to have in a corporate video.
The more passionate they are towards their work, the more that reflects in their values, and eventually in the craft that they do.
5) I get that you are good at your craft, but what is the ROI on getting this video done from you?
We have been asked this question a lot of times, so much so that we literally sat down and have devised a formula which will help you in calculating the exact return on investment that you need to have for your video marketing campaigns.
In fact, every rupee that you spend in video marketing or any type of video production, can be measured in a very actionable way.
You can click here to understand more about the return on investment when it comes to corporate film making.
So asking a tricky question like this will put them in a thinking mode whether they'd be able to answer this question for you or not.
If they can't answer this, then it might be really difficult for them to get any real-world results for you, as well.

6) Can you share with me some of your best work that you have done till date? And it'd be great if you could share why it worked so well?
I would ask this question for 2 reasons:
a) To understand what do these guys really set as standards for themselves.
b) What is that they consider as their best work?
This is really a skill based question where you try to figure out the calibre of the team which you are dealing with.
What you are also looking for is why did their previous engagement work so well. And how can you replicate that similar level of success for your own self.
7) Why should we go for you and what makes you think your video production abilities are better than others in the market? I mean there are a lot of people out there in the market who are doing the same thing as you do, at much cheaper rates.

This is a question that might make a lot of corporate film makers slightly uncomfortable. This also puts them in a spot to standout as a brand. If they can't even explain it to you why they are the best in the market, then either they aren't because they don't feel confident about their abilities.
Else they are not good at selling their value proposition.
So if you can ask them this question it would be great unsettler to them initially but it would help you understanding the right things which you need to understand from them.
8) When is the earliest that you can start working on our project?
This question really reflects on the readiness of a team and their ability to NOT say NO to anything and then figure out a way to deliver quickly.
Proposing a question like this helps in checking a team's speed for their work. This will also help you in figuring out their levels of readiness when it comes to spontaneous projects and delivering them on time.
9) What are the top 5-6 problems that you can see coming up in our project?
Knowing problems in advance is probably the best way to avoid it. But only an experience corporate film maker can help you in detecting problems in advance.
But this is a question you must ask to figure out what type of problems you can potentially have and how to get together with your team and their team and build a resolution for it in advance.
(Are you looking for corporate film makers in Mumbai? Click here and submit your details and we'll FIND you the best corporate film makers in Mumbai right away.)
10) Can we do clear mapping of deliverables and timelines for our video project?

This is more from a project manager sort of purview kind of question where you want to understand clear end deliverables and timelines for the project.
Because if there are no clear set deadlines then it mean that the project doesn't have any milestone to hit (time wise). Not having a milestone is deadly from a planning point of view. If you have clearly mapped out outcomes for every time interval, then it is better since everyone knows what are their end outcomes to deliver.
11) what will be the modes of communication for our project? What tools do yu want to use to get this thing moving forward?

This is mainly to understand how you guys will interact with respect to the material when it comes to video production.
I personally think email, slack, whatsapp or calls are good enough to work with.
Usually you should work with whatever works faster, but preferably you should work on formas where you have everything documented so that you can revisit it when you want, like you could revisit them in cases of briefing crisis sort of situation.
12) Can you tell how many years of total experience does your team have?

This question is also a no brainer with an agenda to understand the kind of experience their whole team together bring on the table. And you should really ask them how is each of the key members adding value to the project's life.
Because the more collective experience they have as a team, the better outcome you'll have for your video.
13) Can you tell me more about the kind of script work that you do and a bit about your scriptwriters and their work experience as well.
A successful corporate film making engagement is largely dependent on good scripting work. So to ensure that things are high quality, you check for their scriptwriters and try speaking with them ONE on ONE if possible and understand how they work and what kind of ideas they have in their mind for your brand.
A good written script is your secret sauce to making more impact as a brand out there in your target audience.
14) Have you guys had any experience with working in our industry? Or anything related to our industry?
The real reason behind asking this questions to see whether the corporate film maker team that you are dealing with, do they even understand your business space or not?
If they have done past work in your sector then that means they have a bit of exposure in your industry and as compared to others they'd have more knowledge and understanding about your product/services.
So it would be better to work with them as compared to someone who hasn't.
It's the same way we got shell as a client because we had already worked with clients in the automotive sector in the past and they trusted us since we had a background in the same sector.
15) Can you give me more examples or videos of the past work that you have done for your previous clients?
You should ask for past work, because past work is usually an indicator of the kind of quality you can expect as a brand from them for your own brand.
You will get a real world understanding on the kind of expectations you can set as a buyer while dealing with the prospects in this case.
16) Can you give me reference of 3 of your past clients whom you have worked personally on a one on one basis?
If you get your hands on the their past client information you should contact their references and ask them questions on the basis of metrics that really matter to you and your business.
By doing this you are trying to get a feel of the kind of work and quality you can expect from them. You can interview them about price, quality or whatever matters most to you.
17) Do you have a background score library? Or do you buy stock background score from the internet or do you get it done on a custom basis?
You could ask them about the kind of background options they have. Usually corporate film makers use stock video background scores and that helps them in adding material to the corporate movie.
You should be aware of the kind of quality and work you are getting for the kind of money that you are paying for.
If you are also planning to create a video, find the fair price through our video price calculator – here.
About VidSaga
Vidsaga is a global marketplace for Organizations to hire Video Creators. Currently, 1100+ businesses including Shell India, News 18, Carlton Luggage (VIP Bags), Hindustan Times, FeverFm, Mysmartprice are using our platform.
Join 52,000+ Global Video Marketers' Community