You will never know how to make a film till you actually go and make one – Errol Peter Marks/ Curly Haired Rascals Films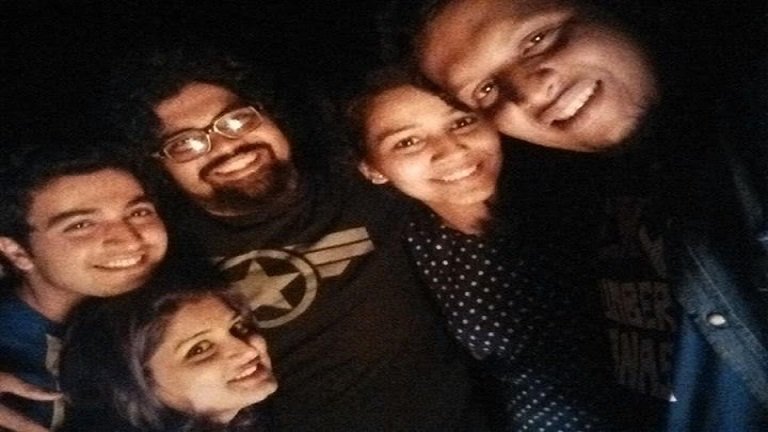 Errol Peter Marks who was brought up in a lower-middle-class family has been part of 80 commercials, acted in 4 films and has made 5 films as an independent filmmaker. Read on to know more about him.
Tell us about your life journey in brief?
I started the life of by having a very narrow view of things. Be it a career, personality, ambitions, dreams, etc. Call it the curse of the lower middle class if you may.
I was born to a lower middle-class family, in a lower-middle-class building, in a lower-middle-class colony, studying in a lower-middle-class school having lower-middle-class friends.
My biggest aim would have been then to work in the gulf, like my uncles and buy a car in Mumbai. A santro to be precise.
I hope you get the picture. When I changed schools, I dreamt somewhat bigger, instead of dreaming of being the best cricketer in my colony, I dreamed of being the best amongst schools.
It was still a narrow, subdued view of things. In college, I encountered teachers, students who spoke about conquering the world. About making a difference.
That passion passed on to me in a way. I won a part in the school play and subsequently got an ad. I have now been a part of 80 odd commercials and 4 films as an actor. And have won multiple awards as a director/producer and writer.
If it wasn't for my college, I would have never taken the plunge and chosen acting and directing as my career. I would have been doing servicing in an agency, something I don't think I am cut out for…
I don't talk about the lower middle-class upbringing in a bad way, it kept me grounded and it taught me to see things differently and be thankful for what I have. It helps me appreciate my journey.
What prompted you to become a filmmaker?
I was doing BMM from St. Andrews college when I fell in love with movies. It became more than just entertainment to me. A classmate told me he wants to become a film director.
I didn't know what a director was because you know, I am not that aware or smart. He explained in his own way what a director is and it excited me. On that day, somewhere in the recesses of my mind, a desire started to grow, to become a director. I didn't know how, when what, nothing.
I just knew that someday I want to direct… Then, Aditya, my co-director joined our college. As we became good friends we both learned our aim and goal in life was similar. to make Films. We said why not give it a shot and see where it leads us.
Tell us about your team, if you have?
I have my own production house. We are three partners, so that forms my core team. The production house is called Curly Haired Rascals. Meherzan Mazda, Aditya Sawant and I are the three partners
We don't have a fixed team, but we work with a group of people on a regular basis. Anubhav Bansal is the cinematographer on most of our projects. He is currently doing a mainstream Bollywood film.
Dhaval Darji is my editor, coincidentally he is editing Kunal Kohli Productions new film. We have a few writers that we collaborate with on a regular basis. Besides that my vendors have been the same for the past four years or so.
How many/ What kind of movies you have made?
We have made five movies. Every movie is a different Genre.
Snatch and Grab our first movie is a whodunnit film
Duality our second film is a psychological thriller, the final outcome wasn't what we wanted so only we and our editors have seen the movie.
Raasta is a slice of life film and was selected for the MAMI film festival. It is our sweetest film to date. We got a special mention at the Rajasthan Film Festival.
Kaarwaa was our next film (docu drama/historical) and the winner of Critics Award at the MAMI Film Festival. This is our most recognized film.
Besides MAMI we won at the Rajasthan Film Festival, We won a film festival called Cortokinto. This movie has also been aired on multiple TV channels as a definite documentary on Mumbai
Khuli Khidki is a horror film which got a special mention at the Wassup Film Festival.
We are right now working on our most ambitious film to date. We plan to shoot it in the coming months.
What is your dream/ vision?
My dream is to make movies. My vision is to see a bollywood which is open to producing all kinds of movies. My biggest dream though is to see an audience in India that gives a fair chance to all kinds of movies with any kind of star cast.
I would like to see the audience giving a non-film family related star/director a chance to win them over. The day the audience changes its mindset, Bollywood will soar to another level altogether.
What difficulties do you face as an independent filmmaker?
Finance is the biggest struggle for me. Opportunities are there, but everyone wants a brilliant product for little or no money. It may be possible by others but I don't think I can give a million dollar product in 20000 rupees.
Maybe I am not as adept as most filmmakers out there but I do need a decent budget to give someone a nice product.
Also, the right opportunities are missing. People expect you to prove your mettle by doing low budget AV's or infomercial type things. I don't think they show the true talent of a film maker.
Any fun/ memorable incident?
Duality, our first proper film. A film we love and believed in bankrupted us. We put all the money we had in it and thought we made something groundbreaking, but we didn't. It's our most expensive lesson till date and we still benefit from what we learned during and after the making of the film. The feeling of duality is a very memorable one.
What advice you'd like to give to someone who is the interested/newbie in filmmaking?
Just go and make something. You will never know how to make a film till you actually go and make one. It's hard work and it means, like a pilot, you have a lifetime of learning ahead of you.
Anything else you'd like to share?
Besides my food and money, everything else.
If you are a video creator and looking for regular work opportunities, create your profile on VidSaga.com
If you also want to get featured on our platform, please email us at team(at)vidsaga.com with your work links.