"I would love to see an arrangement where theater owners and multiplex chains can showcase 4-7 shortfilms" – Srikant Kekare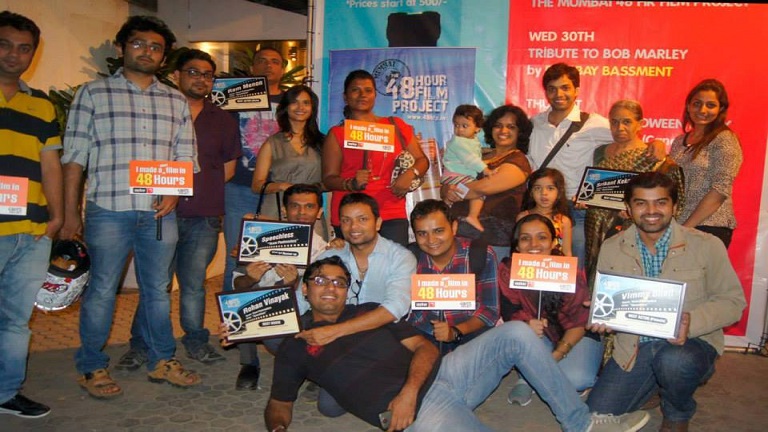 Srikant Kekare left engineering for filmmaking. He has directed about 30+ ad-films and made 5 shortfilms till date. Read on to know more about him.
Tell us about your life journey in brief?
Only on a promise of not getting cornered with Kirchhoff's laws, I tell people that I am an electrical engineer by qualification. It was in the year 1996 that I passed college, and I have no recall of anything beyond Ohm's law now. I also worked as an engineer for 5 years after that.
I left engineering in 2002 for film making and came to Mumbai from my hometown Indore. After an initial short stint in Zee News and Mid-day as a reporter for a year, I worked upon few documentaries, a TV Series. I also gave my voice (in Hindi) to many English documentaries on Discovery Channel dubbed for India as Voice over artist
Since 2004, I was introduced to Television Commercials. I worked with Ramesh Deo Production (RDP) for 6 years till 2010. I had learned a lot from Director and owner of RDP Mr. Abhinay Deo. Recently I worked with him on series 24's Indian version with Anil Kapoor. In RDP I was assisting many more Ad film directors as well.
Till date, I have worked on close to 800 television commercials in the capacity of Assistant Director, Offline Editor, Executive Producer, Post Producer, and Shoot Supervision for Visual Effects. I have worked with about 40 different Indian and abroad directors on these films. My pure idea was to understand every possible aspect of film craft before taking up direction. Recently I have taken up direction, and have directed about 30+ ad-films
What prompted you to become a filmmaker?
Since childhood, I was always attracted to the performing way of storytelling – films, dance, and music. When I was about 12 years old, I remember me going on the terrace and enacting Mahabharat scenes throughout the week those I watched on Sunday mornings.
I would also try to crack in my mind about how a shot could have been shot, like Bheeshma sleeping on arrow-bed. I was quite happy to know that my guess was almost correct when I read about how it was shot in a kids' science magazine a year later.
I had made a frame from Kite sticks which had two black strips on the upper and lower side, and I would like to see various things through it because they would look like the films I had seen on rented VCR. So I can safely say that I was drawn to films from my early days.
Tell us about your team, if you have?
I am in my early days of direction. and I am blessed to have few friends those have always supported me. Ram Menon is one person who has always been available to act in my film whenever most actors would turn down my film because of no money involved. Incidentally, He is also a very good actor, and a great help when comes to scripting.
Apart from him, Abhinav Aserkar has been my in-house vfx person. Mehul Gori handles entire post production, Annu Poojari is my soulmate when comes to sound, never needed to brief him. and my biggest strength is Manohar Nayak, who has been generous enough to fill tank till reserve for my films, so I never have to compromise on film because of small funds.
Apart from them Pintu Mishra (line producer) Veena Muralimohan (Executive Producer), Ajay Pande (Alrounder), and Rituraj Parihar (Assistant Director) have been instrumental in all the films I have made so far.
How many/ What kind of movies you have made?
I have directed about 40 Ad films. But I love making shortfilms. So far I have directed about 5 shortfilms those have won about 25 awards. you can check a few of my films on https://vimeo.com/channels/816964
What is your dream/ vision?
I think it is too early for me to talk about things like vision. All I can say is I want to keep making films with three objectives – everyone involved should enjoy the process, my films should entertain the audience. Anything over and above; be it awards, money, acknowledgment everything is a bonus.
What difficulties do you face as an independent filmmaker?
I have my new found love in short films. however, filmmaking is a costly passion and there is the very little scope of recovery of the making cost. Thus, there are not many people interested in funding short films. Unless surrogate advertising is involved. Public funding to is a slow process.
I would love to see an arrangement where theater owners and multiplex chains keep one slot for short films where they can showcase 4-7 short films. alternatively, they can have 4-5 mins long bonus short film before or during the interval of every show of feature films. This value addition can bring the audience to a specific theater chain.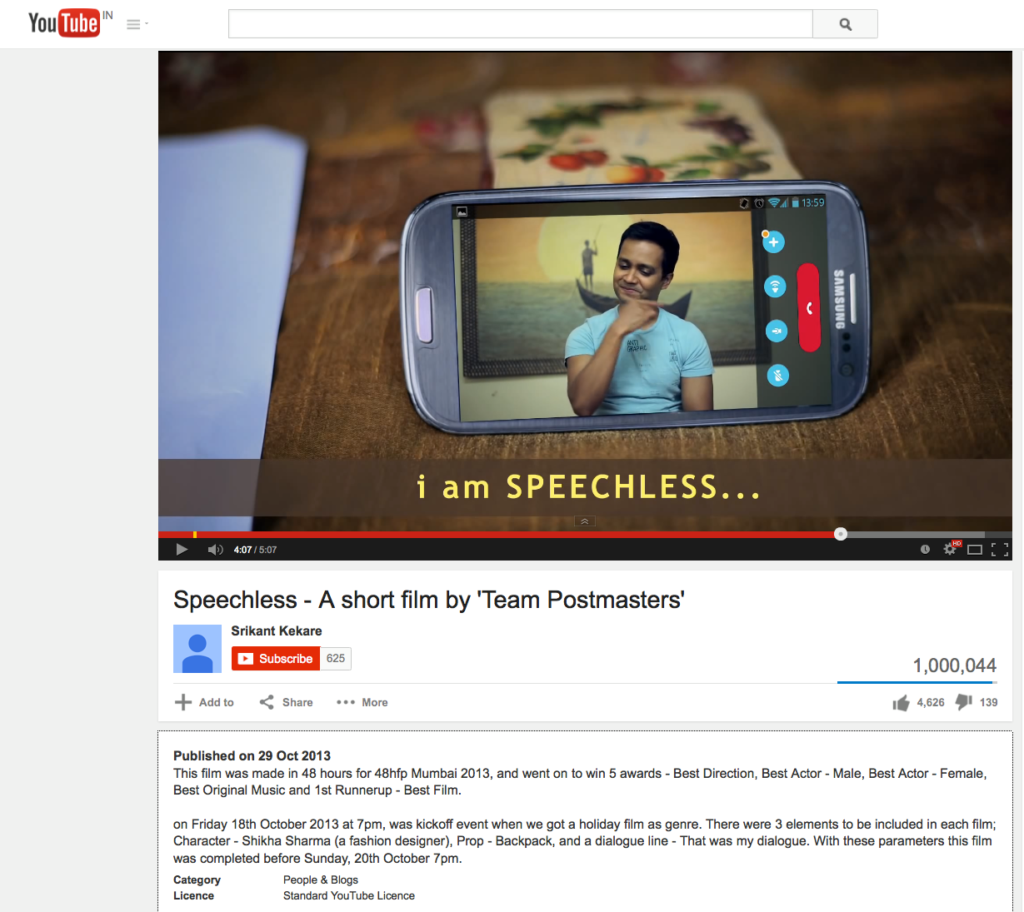 Any fun/ memorable incident?
Many… but in Speechless, there are two actors those are a professional voice over artists – Ajit Bhure and Ram Menon. Ajit was unwell while dubbing and I dubbed for his voice, and Ram's character is deaf and mute. So both VO artists don't have their voices in this crazily viral film.
What advice you'd like to give to someone who is the interested/newbie in filmmaking?
Too early to give pieces of advice. All I can say is stay true to the format and be honest with the story.
If you are a video creator and looking for regular work opportunities, create your profile on VidSaga.com
If you also want to get featured on our platform, please email us at team(at)vidsaga.com with your work links.