"I have always believed that a moving picture has great power if you know the proper ingredients" – Jayrajsinh Chavda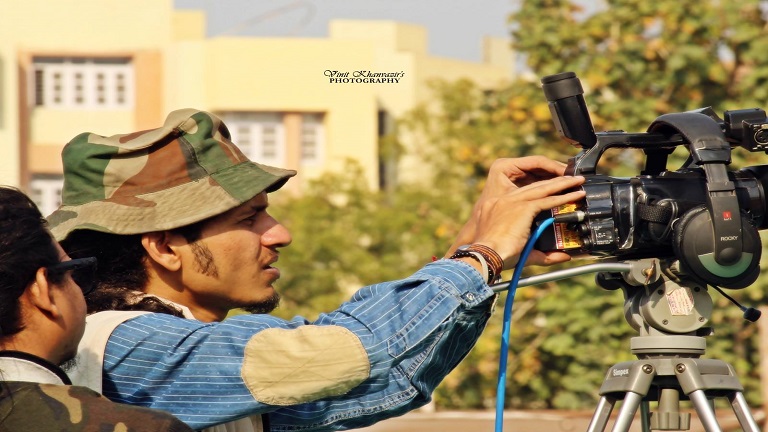 Jayrajsinh who has made more than 70 films till date. Read on to know more about this prolific filmmaker.
Tell us about your life journey in brief?
I am a self-taught filmmaker, I never undertook any formal training in film making but I learned largely through trial and error method. I have been art enthusiast since my childhood days. My childhood was blessed with having access to arts from an early age.
I liked to draw, paint at school when I was a student. I always wanted to express my feelings through different forms of arts. My journey was started when I was in 8th Grade. During my school life; I made early performances in drama and at the same time I also got an opportunity to work in TV serial as a child actor.
I also used to play drums in my school band. In the process, my interest in acting, music, and photography developed further into filmmaking. I picked up a camera from my friend and made my first short film 'The Legend Power of Unity'.
It was nominated for a national film festival and that was enough to set me on that track. There wasn't much behind the films, just placing the camera on a tripod and running around. I was around 13 at that time.
A year or two later, I got a camcorder as my birthday gift and then started shooting everything around me! After schooling, I went to learn acting and direction at the Department of Theatre Arts, Gujarat College – one of the oldest and highly respected theatre art schools in Gujarat.
During my theatre study, I got an opportunity to act in a lot of dramas and I also wrote and directed dramas 'Play the music', 'Alexander the great' and 'The Paradoxical Perception'. I have also written and directed public service radio series for All India Radio, Ahmedabad.
Making films has been a good journey for me since I made my first short film. The very first comment given by someone who saw my film was about the amazing use of music and my edit pattern.
Initially, I was fascinated by the relationship between the sound and picture, and then I learned the basics of sound that sharpened my skills. I used to visualize while listening to any music track and that really helped me into my profession.
For me, the biggest source of learning was movies and internet. I learned about different methods of storytelling by watching a lot of movies. I was also spending a lot of time on the internet; exploring various film making techniques and learning about filmmakers from around the world.
During my research, I came across this film making style called DIY (Do-It-Yourself). It was being adopted by a lot of low-budget filmmakers. It was pretty interesting for me because I always took pleasure in creating my own tools myself.
I started out armed with my camera and a bunch of friends, a backyard, and a desire to make films and since then there has been no looking back. I kept on making films and videos that have always given me strength and hope to move forward. So far, I have been constantly evolving and reinventing myself as a storyteller.
What prompted you to become a filmmaker?
I don't think that there is one specific impulse that gets you into film making. It's everything. I love telling stories through visuals, sculpting time and space to tell cinematic lies.
I also love the technical aspect of different genres and of course, I love the opportunity film making offers, to collaborate with amazing people! There is a massive wave of pleasure that you get after seeing your own film.
But getting a camera played a very important role in it because it changed my perspective to look at the things. With indie films, you have the independence of telling stories.
There is no such clear definition of indie films. It's the passion and the spirit that you make it with. It's all about the way you fit shots together to create the illusion of things happening and how you pull off your story that you have to tell. There are many different ways of making films. For me, it's more like a mission.
I did everything, from being camera attendant on commercial sets to scripting, directing and editing. I worked in every different aspect of the industry with the goal of always learning more of it.
Tell us about your team, if you have?
I had started off this journey alone. I used to do everything myself. I used to write, shoot, direct, edit, compose music and also sometimes had to act in some of my early movies.
It is generally mistaken for a 'one-man show' kind of approach in my film making, which is wrong. I know that it is too difficult to be everywhere and do everything alone but somehow I managed to do so.
I have separate teams working on different projects, at the same time. I have a team of writers, music composers, cinematographers, visual effect artists that look after different prospects of making a film. Together we are the group of indie artists and we love making films.
Films that inspire – empower – engage. We have a production team that looks after the execution of tasks, to keep the creative team hassle free. We also have interns from media institutes and so many other passionate supporters that stand by us in whatever needs.
I would rather call my team an army because if you compare the life of filmmaking crew with soldiers, they almost have the same number of sleepless nights. Me and my crew – The Film Army, we follow unorthodox culture and discipline. And that's what makes us different from others.
Social media and networking forums have been very helpful to get in touch with the most talented people from across the world.
Because of the internet, we can see, work, talk, exchange ideas with each other very easily. Many times, we have found support from those corners of the world which we didn't even know about. We have a composer from Germany working with us on our fan fiction project 'Pirates of the Caribbean'.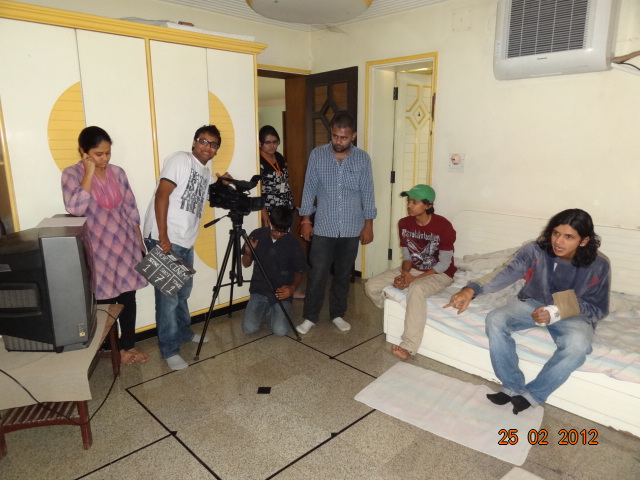 How many/ What kind of movies you have made?
I have made more than 70 films, which includes short films, documentary films, corporate films, ad films, public service films, online campaigns, and music videos etc.
Sadly I can't find any of the films I made back then. I would love to look back at them. And many of which are private circulation and haven't been made public yet.
Some of my acclaimed works include 'Death of dreams', 'Jelly', 'The Identity and 'The Dark Mystery in Walled Street', most of which has dark and noir-style treatment.
I found the process of filmmaking a truly magical one. Through the magic of immersive sight and sound technologies, my films offer audiences an inspiring perspective and an unforgettable theatre experience.
Most of my films have been well received and appreciated across various national and international film festivals for the message and food for thought that it gives away to the audience with the help of emotions enwrapped in our art of storytelling.
I think every filmmaker has his own style, especially when editing a piece. I ended up getting in a certain style for myself while editing early films which were made with minimal resources. One peculiar factor that defines my style is music.
I often use music to influence my visual style and pacing. I have also been using lots of innovative sounds and background score to convey the core feeling. Those sounds always give my product a distinct theme and appeal.
What is your dream/ vision?
My vision is to create timeless classic films that appeal to the universal audience. I am interested in making thought-provoking cinema, which can have an epic cinematic style with unconventional narrative structures, breaking form, blending reality and imagination.
Our current culture and my generation are prone to listening to video medium and is more comfortable learning through it, so I want to make films that have something positive to say, films about fantasy, dreams, scientific, philosophical, metaphysical and humanistic ideas.
I have been inspired by the works of Christopher Nolan, Peter Jackson, Steven Spielberg, James Cameron, Ridley Scott, Alex Proyas, and Stanley Kubrick.
I have always believed that a moving picture has great power if you know the proper ingredients. By blending different forms of art such as audio, video, graphics, poetry etc.
You can create more powerful artwork than by using one art form alone. Each project has a different treatment and with every project, your audience changes too. But my goal has always been to impact my audience through dramatic, compelling, and cinematic experiences.
The motive of each person in the team may be something different but the passion unites them all. My passion in life is to share the power of creation with everyone around me. I dream of making films till my eyes can see the screen.
What difficulties do you face as an independent filmmaker?
Funding! There is no shortage of excellent ideas and potential scripts and the talent needed to flesh out a film. The money to make it a reality is always the biggest challenge. And it's hard at any level of Industry. Money and time are always an issue.
Far shorter development times to get the product to market, once funding is achieved. Of course If you're putting up your own money (which you shouldn't, if you can avoid it), you can take as long as you feel is required (My latest music documentary, The Connoisseur's Journal took 5 years to finish) or at least as long as you can before the credit card companies come knocking.
Another biggest hurdle for independent films in India is getting a theatrical release. Thanks to digital distribution, which has totally changed the way of taking your films to the audience but still you need big money or a credible distributor to get your film released in theaters and survive a week, competing with Bollywood potboilers is almost impossible.
YouTube and the internet have radically altered how people see films. Likewise, illegal downloads and piracy of films have been increasing. It has become the main gateway to enjoy films online, hence taking away the traditional audiences who would see films in the cinema hall.
Without a strong social media presence, an independent filmmaker can struggle to raise awareness. Thousands of independent films are made every year, with merely 1% being successful to get distributed traditionally. As the film industry gets so much competitive, film studios are less likely to promote new talent instead of the big blockbuster films.
Nowadays, many independent films are funded through a process known as 'Crowdfunding'. This is where many different people contribute to the creation of a film.
With even a low budget film costing thousands of pounds to create, edit and finish in post-production, many individuals or organizations are required to fund a film. So, a filmmaker will have to devote much time to firstly raising awareness of the proposed film and then persuading people to chip in.
In a world where many things provide instant gratification, explaining why a low-budget film is worth investing in those not versed in the art of storytelling is often a tricky task.
Any fun/ memorable incident?
There are many, but the one I remember is from the time when I was filming free hugs music video back in 2012. We were out on the roads, giving hugs to each and everyone who is passing by.
Nothing was crafted. I was following the group of people who were giving hugs and was just filming whatever happening around. I was just capturing all the moments from my perspective.
On our way, there was a girl, sitting on her vehicle and my friend Kate Hsu rushed to give her a warm hug. And we found out that the girl was actually crying there. She just held Kate very tight and she couldn't stop her tears.
I stopped filming. We were totally shocked and wondering why she was crying but she didn't tell us anything. That moment was really so touching, maybe that hug was so much needed for her, at that moment. It was a very memorable incident that I could never forget in my life.

What advice you'd like to give to someone who is the interested/ newbie in filmmaking?
One should believe in what they are doing and keep doing it with full passion.
Anything else you'd like to share?
I have often been asked by a lot of people about how do I gather people for my films or what is the recruitment process to be commissioned in our film army. There are various touch points for getting people on board, generally,
I find like-minded people from my friend circle and social media network. We ask them if they are interested to be part of a specific project. And then there are contracts that need to be signed if they are interested, of course, we follow the due legal procedure.
Our current endeavor, The Connoisseur's Journal is our way to create history. It combines two of our deepest passion, film, and music. The documentary would be a tool for educating young musicians about the vastness of our musical universe.
It is like all the artists coming together and creating an epic anthem which would be sung by future generations. The documentary encompasses lives and music of musicians in Ahmedabad. From early television 1990s to the latest virtual 2020s, the documentary registers evolution of music and culture in Ahmedabad.
Our next project which is fan fiction of Pirates of the Caribbean (It's my dream project), We are sourcing the talent from different parts of the world through collaborations. Because it is a very large scale project and you have to be sure about the content you use.
Through crowdsourcing, we are obtaining needed services, required ideas or content by soliciting contributions from a large group of people, especially from online communities where like-minded people generally talk about ideas and stuff like that.
Rather than employees or suppliers, we are inviting those who find the project interesting and then take it forward together. So if you are dreaming to be part of a pirate film, you can write to us at contact@jayrajsinhchavda.com
If you are a video creator and looking for regular work opportunities, create your profile on VidSaga.com
If you also want to get featured on our platform, please email us at team(at)vidsaga.com with your work links.