A Comprehensive Guide: All you want to know about Video Creation Process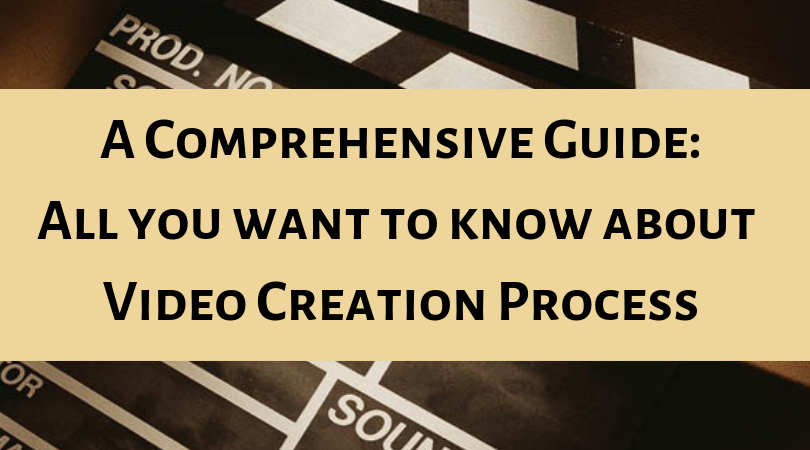 Videos influence your users to purchase more.

Ok, so I haven't told you anything new. Have I?

Internet is flooded with lots of gyan on 'why video is future of marketing' or 'why you should include video in your content strategy' etc etc.


But no one is telling you the practical operational nuances, right?

So, the idea of writing this article is not to tell you about the importance of video or video marketing or video marketing trends or any stuff like that but things you should be knowing as an Organization/ Company/ Marketer/ Digital Marketer to create an effective/ awesome/ viral video easily, quickly and most importantly in the right price.


In this article, you will get answers to following questions:
Questions you should prepare for before approaching any video creator
Video Project Creation Process
Type of popular video types
Things that contribute to video's price
2 Golden Rules of Video creation
Client's typical Video Creation journey
How to find a video creator/ production house/ Animator
How to create video easily, quickly and at the right price?

Questions you should prepare for before approaching any Video Creator
1. What is the objective of your video?
It is extremely important to understand why you want a video at first place. This "why" answers lot of questions like – CTA, marketing communication etc.

2. Concept/ Script:
Do you have a rough script or concept or reference video in mind based on your value proposition or marketing communication?

3. Type of Video:
Do you want a Live Shoot Video, or an Animation Video, or a mix of both?

4. Are you making the video for Facebook or Youtube or for any specific platform?
There is a huge difference between a Facebook video and a Youtube video. You must be clear how and where you would like to distribute your video.

5. Duration of the video:
Longer is not always bad and shorter is not always good. It all depends on your objective, platform, audience etc.

6. Last but not the least – Budget for the video
If you are a startup or low on budget, you could also help video creators with models, voice over artists etc. to reduce the cost. You can tell them that upfront or discuss this with them.

Video Creation process for Organizations
So once you decided to create a video be it an explainer video of your app or a client testimonial video or a small marketing video and want to outsource the production. From this point, the process would be like this:

Organization shares video requirement with the video creator
Video Creator revert with an indicative budget and timelines
Organization then provides all the details and finalise a right video creator
Video Creator then creates an initial draft of concept/ script
Once the script is finalized, both the parties sign a contract or service agreement.
The Video Creator takes 50% advance and starts the video production.
The Video Creator submits the first draft of the video.
After incorporating all the feedback, the Video Creator completes and delivers the final video.
Overall it takes 1.5 to 6 weeks

Type of Popular Video Types

Explainer Videos:
An explainer video is a short, animated video that explains your product to your customers in a very simplified manner.

You can also create a product pitch with the help of these explainer videos. These are normally animation videos but could be a mix of Live shoot and graphics as well.
Example

Ad Films:
We do not need to tell you that, right? All the ads you watch on tv or youtube which increase the brand recognition or product promotion.
Example

Viral Videos:
The name is enough. With digital became a world in itself, viral videos became prominent for promoting a product/ service to netizens.

Several factors are responsible for making a video viral. It can be the face value of the influencer in the video, your promotion strategy, launch timing, a relation with controversy or emotional content.
Example

Corporate Videos:
Corporate Video is nothing but making an audio video presentation of your company than a normal powerpoint presentation. The idea is to let all the stakeholders know about the company's history, growth, plans etc.
Example

Client Testimonial Videos:
Clients are the best brand ambassador for any Organizations. So, in order to capture what previous clients feel about your product or service, and let other prospective clients know, these videos get made
Example

Product Videos:
Product videos are made to highlight and demonstrate a new innovative product and its features. These are generally a mix of live shoot and graphics.
Example


Things that contribute to cost
A video has many elements which decide the quality of a video, hence the differences in pricing. A video on the same concept can be made with Rs. 20,000 and also with Rs. 2 lakh.
Pricing of a video depends on following elements
Scriptwriting charges
No. of cameras and their quality
No. and type of lights
No. of mics and recorders
Voice Over
External model/ artist/ actor
Type and duration of graphics
No. and type of locations
Travel (intra city or intercity)
Makeup artist
No. and type of costume
No. and types of Props required
Stock images and footage required
Music
Post-production charges
You can use our video price calculator to calculate price of standard videos

Two Golden rules
So when you decided to do video marketing be it to get more clients or acquire users or to improve SEO or to explain your creative/ innovative idea, you need to keep these 2 rules in mind


1. Concept rules
Concept (or Script) is king in any video unless Salman Khan is acting in it 😛 . Jokes apart, video is a creative audio visual entity and more than half of the work is done if you have a good concept/script in hand. A good creative concept could definitely help your audience to understand your product/ service/ value proposition/ brand proposition, help them in recalling your company and hence help you in achieving the business objective.


2. There are no set rules
Anything which is executed intuitively can work and this is completely valid for videos as well. It's not that animation is better than live shoot or vice versa or Short videos are better than Long videos so on and so forth.
We can tell you exception for every rule you suggest. So, it's more about understanding your audience, marketing communication and then create a video which can creatively delivers your message.

How to find a video creator/ production house/ Animator
There are several ways to reach out to video makers
Google
Facebook groups
Marketplaces like Fiverr, Upwork, Indiamart etc
References
Dedicated marketplaces like – 90seconds.com, Vidsaga.com

But the question is – Is finding video creators solve the problem?

So you got profiles of 10 video creators, will you be able to identify the 'best fit' or right service provider who can create a video that would lead to your business objective?

Do you have "defined selection parameters" for selecting a video creator? Like on what basis you will finalise a vendor?

Can you differentiate one video creator's work from other?

Also, there are many things like quality, price of video etc you need to figure out before you make a decision. Trust me more you speak with vendors, more confusion you will have.

Let me tell you how your journey/ discovery phase would happen


Organization's Video Creation journey (Most Important)
Video is a complex entity which requires creativity as well as technical skills. As a company/ Organization we want to outsource it because it requires specific skills sets like cinematography, editing, script writing, sound, acting etc. which we do not have inhouse.

So, when you decide to outsource it, your journey would look something like this:

You find video creators through google, social media or reference
You tell everyone your requirement and ask for their quotation
As video creation is a highly unorganised service industry, you will get different, quotations, methodologies and timelines
Now you will be very confused as there is no one to guide you on this and you yourself do not have defined parameters/ expertise to select the right service provider
You will then finalise a service provider who you think (and pray) can deliver the desired quality on time on parameters like Price etc.
Anyway, somehow you trust the guy and pay an advance amount
You start managing the video project through email + phone with lots of back and forth communication and after a month it would be difficult to track the communication
Once the video is delivered, you can not figure out whether it's the committed' promised deliverable quality or not
Now by this time, lots of time, money and effort has been sucked in and you have to somehow accept the "delivered quality"
This brings us to the most important question of current times


How to get video creation done easily, quickly and in right price?
So by and large you need to figure out these below things to select the right video creator to get an awesome video
What is an estimate price of your video requirement and what are the variables involved in calculating the price?
What kind of video should I make to fulfil my business objective?
What would be the optimized project scope as per my budget?
Based on what parameters, we should select a fit vendor?
How to ensure committed deliverable quality and timelines?
How to ensure a smooth project management?
We at Vidsaga.com have developed a platform (for all the above problems) through which we can help you at every stage of video creation journey.


Here is how it works:
Get an estimated price idea and Submit your Video Requirement
Get expert help in deciding the reference video and project scoping
Let 250+ video creators bid for it
Once you get the bids, compare video creators' profiles like you compare cars/ mobile
Once you finalise a vendor, use Project management tool manage the video project efficiently
Take help from VidSaga expert to ensure committed quality and deadline
We do not charge any commission from the video creator and also there is no fees involved for posting the project. So the Organizations get the best price everytime that too easily and quickly.

So, what are you waiting for?

To grow your business, leverage the power of video submit your requirement now.

About Vidsaga.com
Vidsaga.com is a global marketplace to hire right video creator easily, quickly and who charge right amount